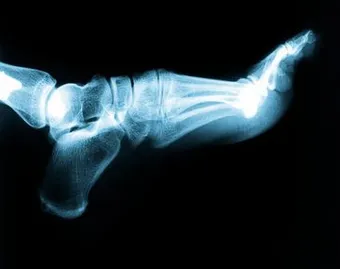 Here at Advanced Foot & Ankle Center, we successfully treat people with heel pain almost every day without surgery.
When individuals begin to experience intense pain in their heel, many know that they have acquired plantar fasciitis. This ailment occurs when the plantar fascia ligament along the bottom of the foot develops tears in the tissue. This will result in pain and inflammation of the area closest to the heel bone.
The most common symptoms of plantar fasciitis include:
Burning
Stabbing
An aching pain in the heel of the foot
The fascia ligament tightens up over night and therefore causes the most pain in the morning. Pain generally decreases as the tissue warms up, but oftentimes returns after long periods of standing or weight bearing and physical activity.
One of the prevalent factors that contribute to plantar fasciitis is going barefoot in the home or wearing incorrect shoes. This includes shoes that either don't fit properly, or provide inadequate support or cushioning. Weight distribution becomes impaired while wearing shoes that are unsupportive. Therein, adding significant stress to the plantar fascia ligament.
In most cases (about 95%), we can successfully treat your plantar fasciitis without surgery or invasive procedures to stop pain and reverse damage. Traditional treatments are usually all that is required. However, keep in mind that every person's body responds to treatment differently and recovery times will vary. If you have been told you need surgery to fix your plantar fasciitis, give Dr. Williams a call at 208 785-6700 and see what we can do to help you get pain free.....quickly!